Traditional Italian Fried Doughnuts for Breakfast
There's a delicious breakfast pastry you should try in Italy called ciambella fritta and it's a traditional Italian fried doughnut. It provides a satisfying sugar fix with your morning coffee or cappuccino. Check out the latest Local Aromas Foodie Sisters video which sees Valeria and Benedetta explain why they can't get enough of the delicious fried goodness of this local pastry. 
[youtube v="o7ppyCGyxLc" maxwidth="600px"]
Italians like to begin their day with something sweet and, while the most popular choice nowadays is the cornetto, the Italian version of a croissant, it is also worth sampling some of the other pastries from the pastry counter, for example, the ciambella fritta.
Originally made with bread dough and prepared for big celebrations, ciambelle fritte can now be found daily in coffee bars, cafes, and pastry shops. They are made from a light, twice-proved, dough to ensure an airy texture, and are shaped into rounds with a hole in the center then fried until golden before being coated in sugar. Although similar in shape to a classic doughnut, the ciambella fritta follows the Italian mantra that 'less is more' so will never be coated with frosting or decoration other than its dusting of white sugar. Simple yet very satisfying.
While some versions of ciambella can be found in all corners of Italy, though sometimes with a different name or shape, it is worth trying to track down one that has been freshly fried, although this is harder to come across nowadays. Wherever you end up eating one, there really is nothing quite like sinking your teeth into a soft, sweet ciambella and relishing the childlike joy of licking the sugary coating off your lips.
Summary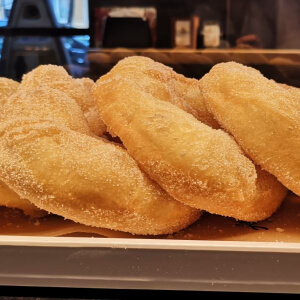 Article Name
Traditional Italian Fried Doughnuts for Breakfast
Description
Watch our latest video to find out more about the Italian version of the doughnut, the ciambella fritta.
Author
Publisher Name
Publisher Logo