Finding the Best Gelato in Rome
Everybody loves gelato and while the Romans will happily eat it year-round, there is nothing like a cold gelato to cool you down on a hot summer's day. Watch Foodie Sisters Valeria and Benedetta track down some of the best gelato that Rome has to offer and share their tips for avoiding bad gelato and finding the good stuff. We have also compiled a list of our favorite gelaterie in Rome where you will be guaranteed top-quality, delicious gelato, made the way it is supposed to be. 
[youtube v="ofR8QUhGUFI" maxwidth="600px"]
Check out Local Aromas' list of the best gelato shops in Rome. Here gelato is made from scratch, as it should be!
Günther Gelato Artigianale Italiano
The pride gelato master Günther Rohregger puts in his profession is evident in the quality of the ingredients used and the outstanding gelato he produces. Born in northern Italy, he thankfully chose Rome as the destination for his excellent gelato. His specialty flavors tend towards creativity and uniqueness, including a gelato made with pine extract, a delicious reflection of his alpine roots.
Via dei Pettinari 43 (Campo de' Fiori)
Piazza di S.Eustachio 47 (Pantheon)
Otaleg
After years gaining a name for himself in the residential area of Colli Portuensi, Marco Radiconi finally opened a central Roman branch of his gelateria in early 2019, earning him a wave of new fans in the process. Otaleg, which is 'gelato' spelled backwards, perfectly combines the traditional with the innovative with a selection of flavors ranging from classic creams and seasonal fruits to the more wild and wacky (look out for the savory variations made with avocado, tomato or pecorino cheese!).
Via di S.Cosimato 14a (Trastevere)
Gelateria dei Gracchi
This much-loved Prati gelateria now boasts two branches in Rome's historic center, making it easier than ever to stop by between sightseeing for a taste of their decadent ice-cream. With luscious, seasonal fruit flavors, exceptional nut varieties and faultless classics it is no wonder that many Romans cite this as the best stuff in town.
Via dei Gracchi 272 (Prati)
Via di S.Pantaleo 61 (Navona)
Via di Ripetta 261 (Popolo)
Gelateria del Teatro
Simply walk down via dei Coronari and take a peek inside the visible preparation room of Gelateria del Teatro to see that this gelato is the real deal. Made using prime ingredients and seasonal produce the wonderful flavors range from the deliciously simple to the slightly experimental (think white chocolate and basil, sage and raspberry, and white peach with lavender). Whatever you chose, you won't be disappointed!
Via dei Coronari 65/66 (Navona)
Lungotevere dei Vallati 25 (Campo de' Fiori)
For more tips on finding the best gelato in Rome, take a look at our Quick Guide to Italian Gelato, and join us on our Pizza & Gelato Tour in Rome to get insider knowledge from a local guide.
Summary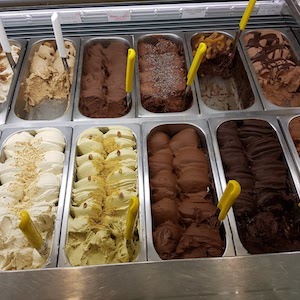 Article Name
Finding the Best Gelato in Rome
Description
Watch the Foodie Sisters in Italy video on gelato and find out where to get the best gelato in Rome. Learn what good gelato looks like, what to stay away from, and where to have the best gelato in Rome!
Author
Publisher Name
Publisher Logo